First white labeled,
customizable and integrated
shipping platform.
Developed by experienced Maritime Professionals.
Book a Demo
Sroll To Bottom
Genesis
Most companies from the maritime industry continue to use historic tools such as emails and spreadsheets to record and exchange data, leading to human-made errors and disconnected departments.
Hence managers are still struggling to make data driven decisions, due to lack of on-demand data.
Our Solution
Suite of user-friendly software dedicated to vessel management, designed by experts from the maritime sector.
Connect
all your departments under the same environment!
Monitor
the whole life cycle of every operations and take data driven decisions.
Ease your cost control
Don't wait for the next quarterly report to evaluate your performance!
Dashboard
Keep an eye on your sensitive data through one single screen.
PO to be validated
Vessel distribution
Number of consecutive days On Hire
Tasks to do
Tenders Awarded vs Submitted
And much more to be customized to all department or clients needs!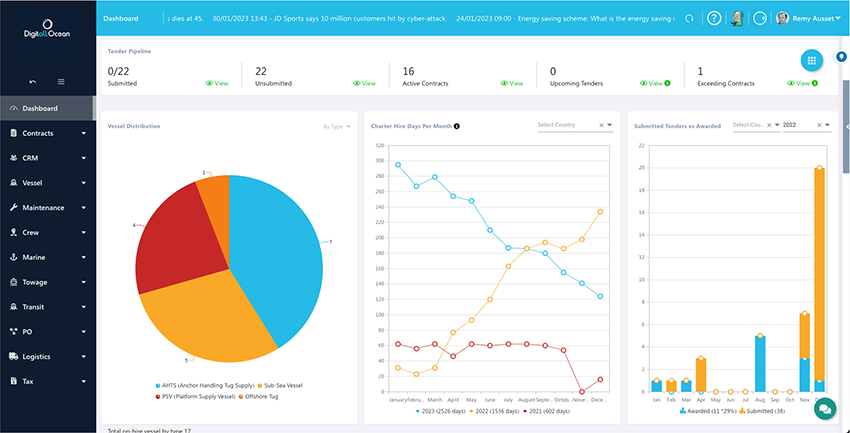 Contract
Follow your success rate : award vs submitted
Send RFQ, receive quotes, award a contract
Accept / reject amendment, track changes before signature.
Manage awarded contract.
(On/Off Hire cert., declare options, penalties, responsibility matrix, optimum operational timing...)
CRM
Create internal chat
Store your contact book
Plan Meetings
Automatically create Minutes of meetings
Create Tasks
Receive notifications
Export event to external calendar (Outlook, Calendar...)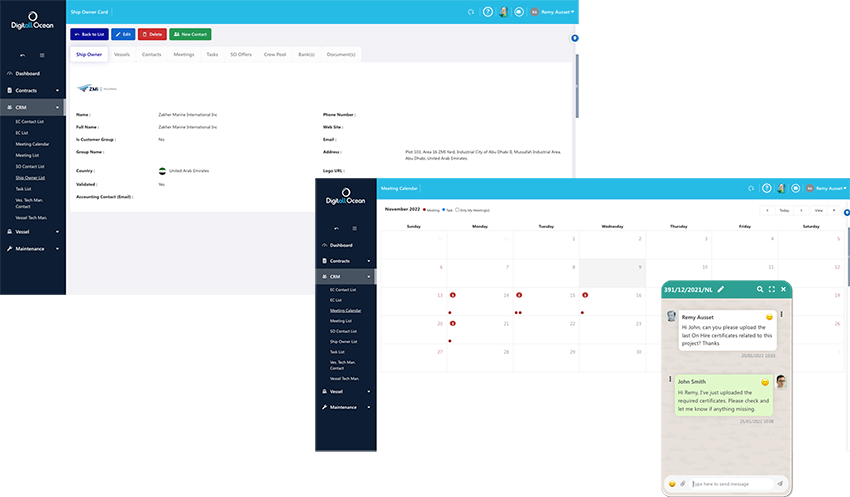 Vessel
Find vessels by specifications & location.
Manage your own fleet details and advise availability.
Estimate transit time & related cost.
Monitor operational data: consumption, daily reports, damages, inspection, vessel budget, crew, timesheet etc...
Marine
Store your document and receive notifications of expiration status. Create inspection reports, incl Findings status & notifications Report any damage incl. details & pics with data stamp status Create list of equipment available onboard at a given time.
Crew
Create profiles with personal doc (seamen book, ID, certificates...).
Manage planning & Payroll.
Get location of your team at any time.
Accounting
Monitor all expenses.
Create invoices & voucher.
Make DO your permanent accounting software or integrate your existing software to DO.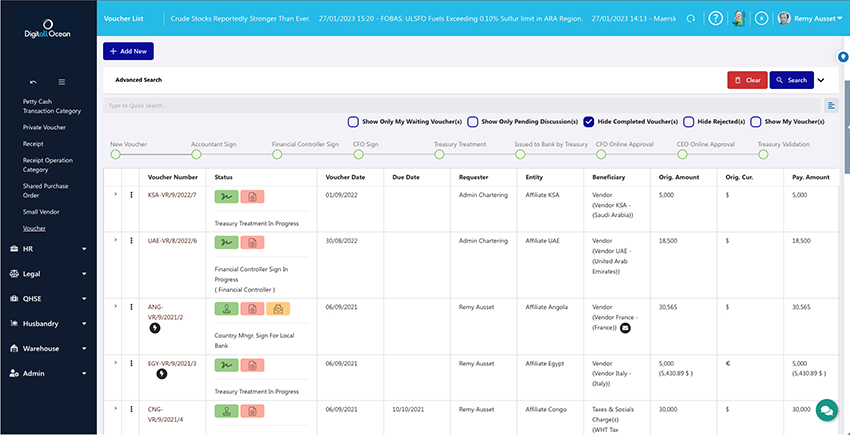 Document Management System
Access all your doc from anywhere at anytime.
Find them by keywords and get notifications.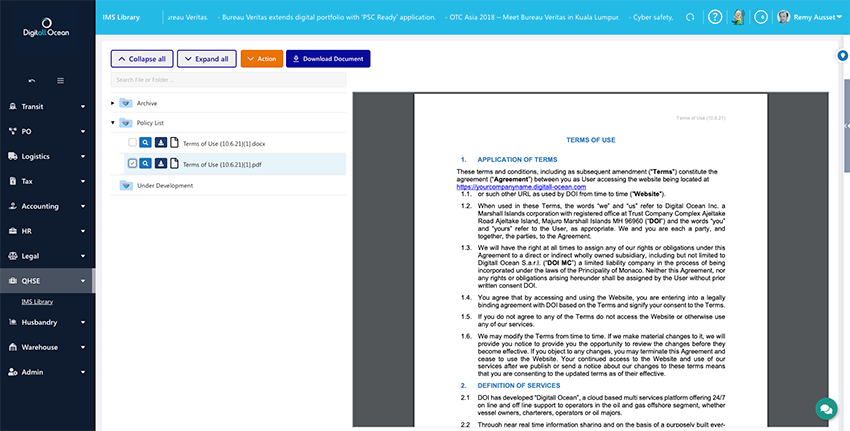 Husbandry
Record flights & hotels booking,
Manage transfer (car, crewboat, helicopter).
Monitor your personnel in real time (boarding, landing, at the hotel) thanks to location by mobile and partners' API.
Human Resources
Provide your team with simple forms to create auto evaluation.
Purchase Order
Generate PO upon validation of Purchase Request (PR).
Invite your supplier to send a quote.
Receive invoice after validation of quotes.
Notify suppliers about payment status.
Create & validate your Vendor List.
Create budget to be compered with actual PO to manage deviation.
Create grocery order according yo vessel budget remaining.
Warehouse
Record stock In & Out within your facilities.
Create list of supply orders.
Monitor supplies onboard each of your vessels.
Monitor delivery supplies and get notifications.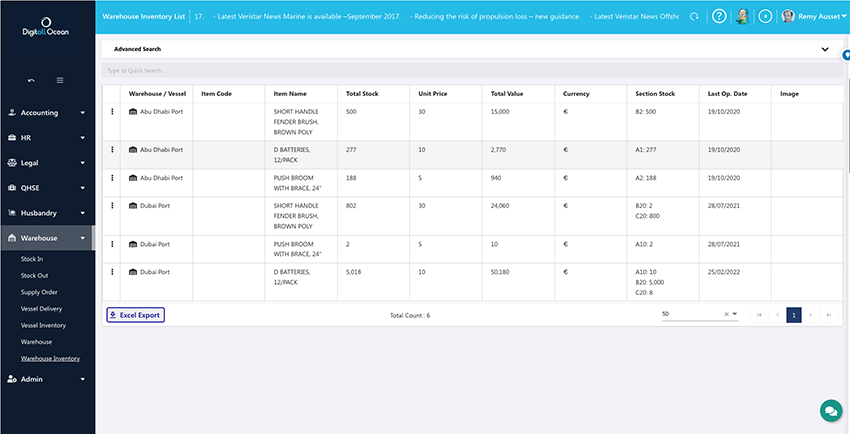 Our Modules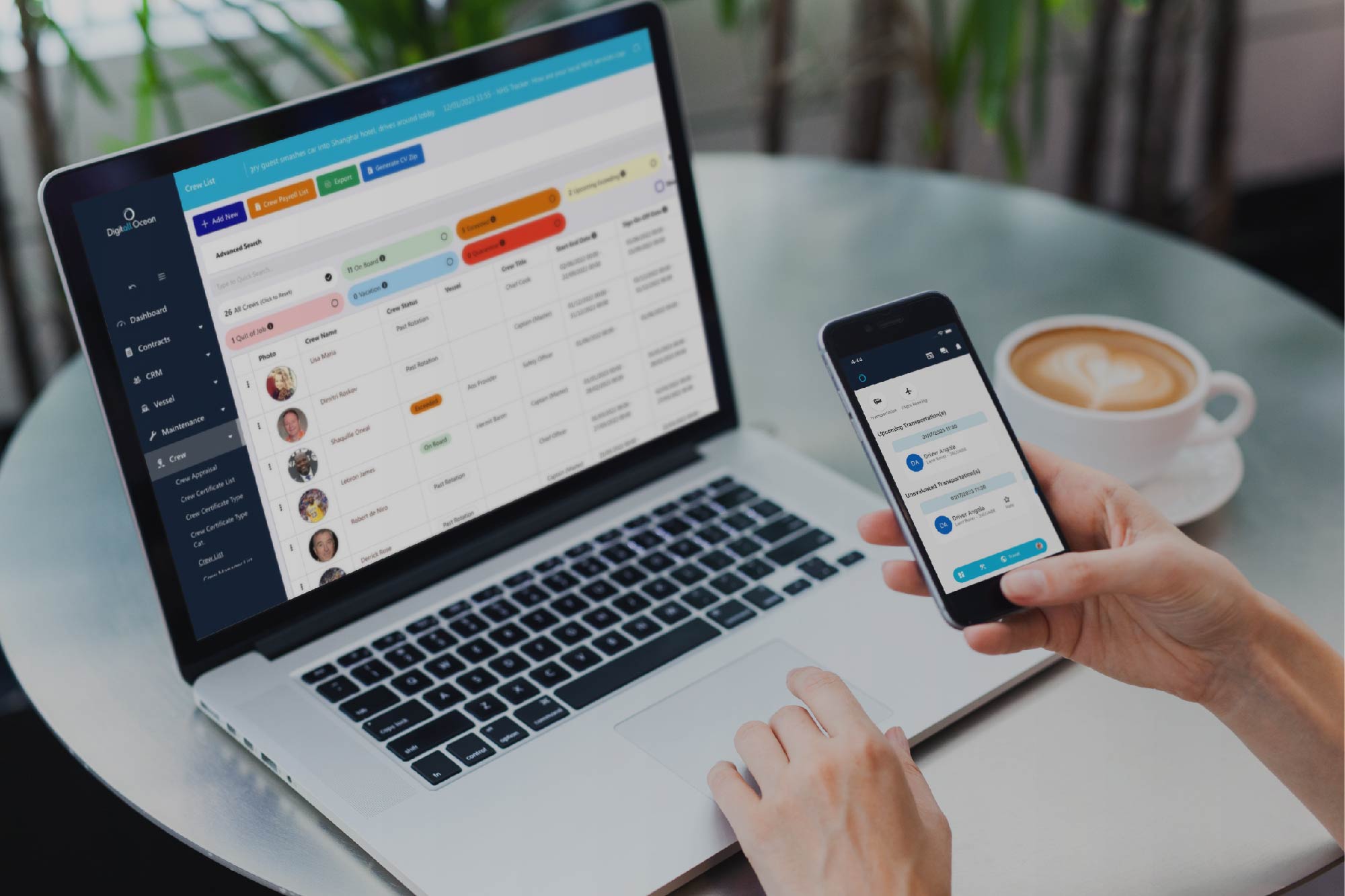 Enhance your digital footprint. Ask for a free test.
Book a Demo
Let our consultant
contact you,
and offer the best
structure for you...